Sajid Javid has his first Commons outing as Health Secretary today, not even 48 hours after he took over from Matt Hancock. As Katy outlines here, the focus will be on how he differs from his predecessor on the pace of easing Covid restrictions. But Javid will also quickly face questions on whether he plans to scrap some of Hancock's ambitious plans to reform the NHS too.
Most popular
France isn't buying Macron's excuses after the Eiffel Tower terror attack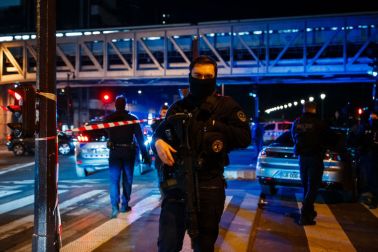 As I reported last week, there is growing anxiety in the health service and in the Conservative party about the forthcoming Health and Social Care Bill, with one senior figure warning that it could end up being 'Lansley mark II'. That's a reference to the politically explosive row the last time the Tories tried to reform the NHS a decade ago with Andrew Lansley as Health Secretary. The most contentious elements of Hancock's proposed reforms involved the Secretary of State gaining more power over hospital reconfigurations and the day-to-day running of the health service.
Today Labour's shadow health secretary Jon Ashworth is upping the ante and plans to use this afternoon's Commons statement by Javid to call for the minister to drop what he is now calling the 'government's ill-thought through top-down NHS reorganisation'. The use of the phrase 'top-down reorganisation' is a deliberate reference to the Lansley row, as the Conservatives and Liberal Democrats ended up fighting over whether the reforms constituted the kind of 'top-down reorganisation' that their own Coalition Agreement had promised they would avoid.
But even the reforms that the NHS has apparently asked for are attracting some criticism from within the Conservative party itself. On Tuesday, senior Tory backbencher Sir Bernard Jenkin has an adjournment debate where he and other MPs, including Theresa May, will be raising concerns about plans to redraw the boundaries of the integrated care systems, which are being placed on a statutory footing by the legislation. Ministers are also concerned about the impact this will have on their local NHS services, which shows how much bandwidth is going to be taken up even by the parts of the reforms that the NHS itself wants.
At today's lobby briefing with journalists, the Prime Minister's spokesman was asked whether the government was still committed to the reforms in the Health and Social Care Bill. He answered simply, saying 'yes'. But now would be an ideal time for a new Secretary of State to add his own marks to an as-yet-unpublished bill — before the row bursts into the Commons chamber.
Unlock unlimited access, free for a month
then subscribe from as little as £1 a week after that