With the latest energy price cap due to come in at the beginning of next month, research has revealed that 40 per cent of Britons are still confused by what the cap actually is.
In addition, nearly half (44 per cent) of those surveyed are unsure of the difference between fixed rate and variable energy tariffs.
Despite this uncertainty, people are still keen to engage with their energy use, with research showing that discussions about energy efficiency, bills and usage take place in households seven times a month on average. Londoners chat about the topic most often, at around ten times a month, while those in Southampton only bring the subject up five times. Those aged 18 to 24 admit that they have energy chats 14 times a month, with those aged 55+ just four times.
These conversations may soon include debates about switching energy provider, with energy consultants Cornwall Insight suggesting the possible return of new tariffs. The survey found that, before the energy crisis, people who switched did so on average every 15 months, but it is now every two years. Half of respondents said they would be likely to switch energy supplier if more deals come back on the market, with nearly 39 per cent keen to find a cheaper tariff and 10 per cent looking to secure a greener tariff.
However, people also have concerns around switching, with just over a quarter (26 per cent) worried they might be left with an inaccurate bill. Just over one in five (21 per cent) are worried that the process might be too complicated and 18 per cent don't know how to find out what their current energy tariff is, to compare it against other offerings.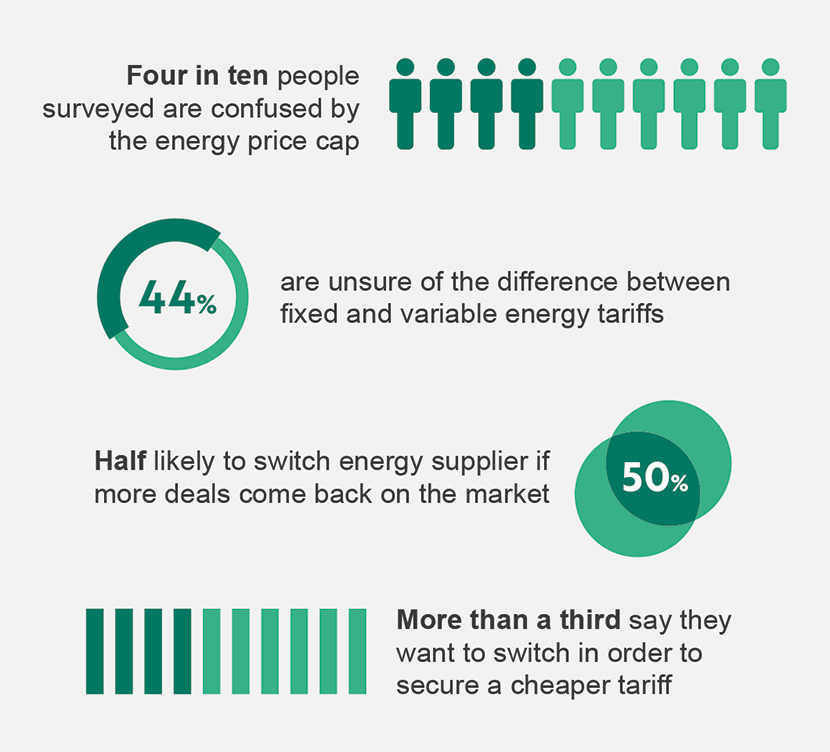 With so many confused by the energy market, smart meters are proving a vital source of reassurance and information. The devices, available at no extra cost from your energy supplier, provide automatic and accurate meter readings. This can ease concerns around the switching process, as it ensures your old supplier provides an accurate final bill, and your new supplier gives you an accurate first reading.
Smart meters also provide real-time visibility of your energy use via the handy in-home display, as well as information about your historic energy use, typically available through your online energy account or app, which in turn can help you decide which tariff best suits your needs.
Victoria Bacon of Smart Energy GB, which commissioned the research, said: 'With our research demonstrating people's strong appetite for switching, coupled with the possible return of new tariffs, it has never been more important to understand your energy use.
'However it is clear that, while energy continues to be a frequent topic of conversation for many, there is still a lot of confusion and concern around billing, costs and switching.
'A simple way to make more informed decisions about your energy usage, be confident that your bills are accurate rather than estimated and to make the switching process easier, is to ask your energy supplier for a smart meter.'
Search 'Get a Smart Meter'*
Unlock unlimited access, free for a month
then subscribe from as little as £1 a week after that