The Spectator may be the oldest magazine in the world, but we pride ourselves in keeping our readers up to date. In that spirit, we've just launched a new WhatsApp channel so that you can get our latest and best articles directly.
What is a WhatsApp Channel?
If, like 2 billion others, you use WhatsApp, you'll know that it is a messaging app. But now Meta, WhatsApp's parent company, have launched a 'Channels' service that lets you follow people, organisations, sports teams and, most importantly, your favourite publication.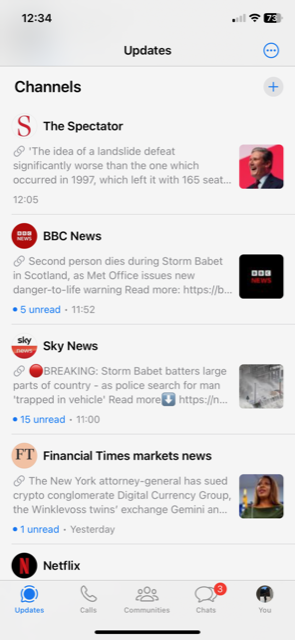 How to sign up?
Unlike 'WhatsApp chats', you can't respond to messages. However, you can react using emojis, which means everyone can see which messages are driving the most response.
You can find channels on the 'Updates tab' in the WhatsApp app. If you cannot see the 'Updates', you may need to update your WhatsApp app to the latest iteration from your app store.
Click on this link to be taken to the WhatsApp channel. You'll need to use this link, rather than the search function, to find The Spectator's channel.
On an iPhone, the 'updates' tab can be found next to 'Chats', 'Calls' and 'Communities' at the bottom of the screen. On Android phones, it's in the middle at the top of the screen.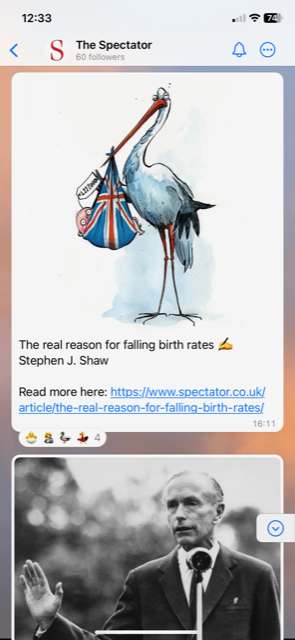 How does it work?
The Spectator's latest posts will then appear on your feed. If you have notifications turned on, WhatsApp will send updates to all who have chosen to receive the messages, whether they're text, photos, videos, stickers or polls.
For privacy reasons, the phone number and profile photo of the Channel admin will not be shared with people receiving the updates. Similarly, following our channel won't reveal your phone number to the admin or others.
WhatsApp Channel messages will only be stored for 30 days before they are deleted.
Whether in print, online, by video and audio, on the app or through our emails, there many ways to find and read The Spectator's unrivalled editorial offerings. Here's just one more.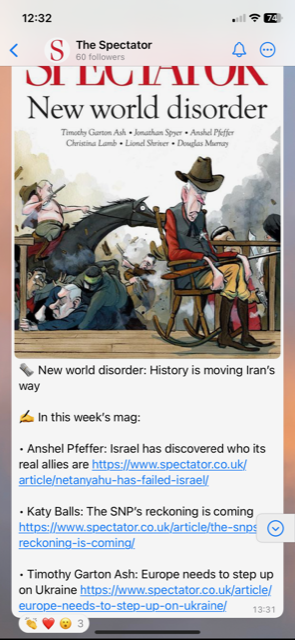 Unlock unlimited access, free for a month
then subscribe from as little as £1 a week after that