Penny Mordaunt, the second-favourite to be the next Prime Minister, has declared that she's running – via a video where she barely features. It's a mush of Tory visual cliches with a Little Britain-style voiceover man talking about service, the future etc with pictures of flags, soldiers, ships and (of course) Thatcher. But it doesn't really feature her. Her voice comes right at the end saying that 'our leadership needs to become a little less about the leader' and more about 'the ship'. And that seems to be it.
On her website (registered, it seems, three years ago) Mordaunt lambasts Boris Johnson for policy that is 'poorly planned and executed'. Fair enough, but it seems she has cocked up her own video. Aren't those American marines? And isn't that convicted killer Oscar Pistorius? Then there's a genuine hero, the Olympic sprinter Jonnie Peacock – but as candidates like her should know, you can't throw in celebrities (or music) in political videos because they'll protest if they feel they're being enlisted in causes that they might not agree with. And surprise surprise, Peacock has already demanded on Twitter that she removes him.
We've embedded her original video (below) but if it stops working then you'll know why. For someone campaigning on competence, it's a bit embarrassing.
'In this contest, there will be a focus on policy,' says voiceover man at some point. It shows the logos of five think tanks, suggesting endorsement – but I'm involved in two of them (the CPS and CSJ) and know they have not endorsed anyone. But if policy is her thing, then where is hers? You can search her website in vain for any policy. The 'what do I believe' section leaves you with no idea at all about what she believes – apart from having a weakness for platitudes. 'Penny Mordaunt will deliver the new economic vision that Britain needs,' says Andrea Leadsom in her endorsement. Great! But with only a few days for MPs to make up their minds, would it be too soon for Ms Mordaunt to share with us what this vision might be? As things stand, her campaign has the depressing hallmarks of a Tory autopilot heading for the same comfort-zone vagueness that got the party into this mess in the first place.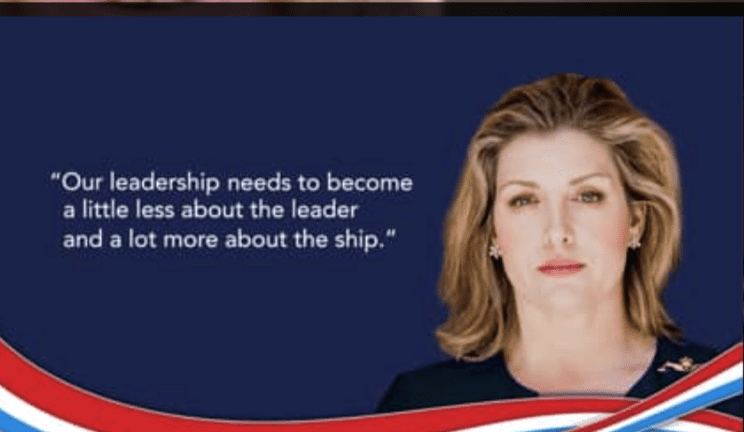 I've republished her answer to the 'what do I believe' below. She faults 'the country' for 'focusing on the negative'. Come again? The country has all too much 'negative' to focus on right now, not helped by Tories jacking up taxes to a 75-year high and letting the wrecking ball of lockdown swing for far too long over education, society and the economy. So voters could, I think, be forgiven for accentuating the negative at this point in political history. They'd need someone who shares their concern about problems and ideally has some solutions.
For those of us who do regard Penny Mourdant as a serious woman with serious ideas – she actually wrote a book about them – it's disappointing and a bit baffling to see such a fuzzy policy launch for a website and campaign that has been three years in the making.
WHAT DO I BELIEVE? By Penny Mourdant
First and foremost, I'm a pragmatist. Policy needs to work for everyone otherwise, there's no point. Too much of Government underachieves because policy is poorly planned and executed. Covid taught us that when we're focused and have a mission, we can move mountains. I believe that Margaret Thatcher was remarkable for not just what she did but the speed she did it. She had a vision and a plan. So do I. I'm an optimist, too. If our country has a fault, it's concentrating on the negative. I see talent and opportunity that needs to be encouraged and developed. We've become cynical about what we can achieve when work together. We need a fresh start. My belief is that Conservatism works with the grain of human nature. We have been successful as a party because we are in tune with the values of our country. These are freedom, fairness, courage and compassion and taking personal responsibility. Where we have failed it is because we have forgotten that. This contest is not just a chance to show what we would do. It should show who we really are, too.
Unlock unlimited access, free for a month
then subscribe from as little as £1 a week after that