Around 540 miles east of the southern Morocco coast, one of the beautiful Spanish Canary Islands, Gran Canaria, ranks high among Europe's most-loved warm-weather escapes, with long sunny days and January temperatures sometimes climbing above 20°C. Canaria's broad range of activities range from hikes through dense pine forests and volcanic caves to opportunities to discover crafts and traditions dating back centuries. However, there's no better way to embrace the island's unique culture than by diving into its flourishing local food scene.
Sheep's cheese, tropical fruits and freshly caught seafood — seasonal ingredients fuel a world of regional Gran Canaria specialities, while new Canarian cuisine sees creative cookery pioneered by ambitious local chefs. And, as any adventure into the island-wide Ruta del Vino (Gran Canaria wine route) shows, local wineries are upping their game too, combining generations of tradition with innovative new ideas.
Sample speciality coffee
Finca La Laja
Lush Valle de Agaete, in north-eastern Gran Canaria, is home to several speciality coffee producers. Surrounded by the valley's rugged mountains, the 30-acre family-owned farm La Laja pours more than 200 years of history into its fragrant Arabica beans, which are grown around 1,300ft above sea level. This farm — or finca, as they're locally known — also produces oranges and tropical fruits, and its rippling vineyards deliver rich wines from rare local grape varieties such as Listán and Malvasía. On a guided 90-minute tour, you'll learn all about the island's coffee-making heritage, which has its roots in the 19th century. You'll then have the chance to sample a raft of local products, including a cup of steaming Café de Agaete. Stop for lunch at the team's nearby Casa Romántica, set among pine trees and dragon trees, where tasting menus are fuelled by fresh La Laja produce.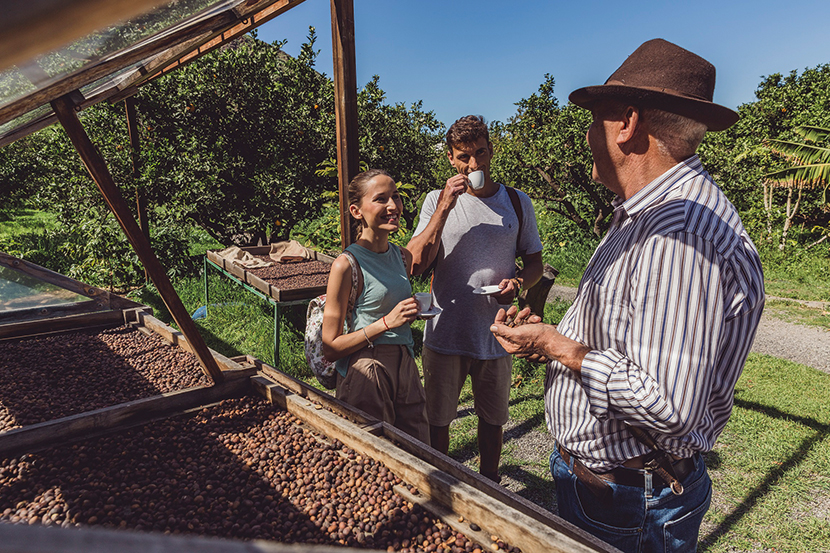 Make for the market
Mercado del Puerto
Whether you're planning on rustling up a soul-warming potaje de berros (watercress soup) or loading up a platter of local goat's cheeses, heading out to the market to pick up the day's freshest ingredients is a key practice of any Canarian kitchen. At Las Palmas' grand Modernista-style Mercado del Puerto, opened back in 1891, cardamom and saffron waft through the air and over stalls packed with fresh pineapples and bananas, jars of almogrote (cheese and pepper paté), trays of Atlantic-sourced fish and more. In the market's buzzing bars and cafés, you can enjoy tapas of jamón, olives and papas arrugadas (wrinkly potatoes) or a plate of huevos rotos ('broken eggs') with Teror chorizo, often accompanied by live music.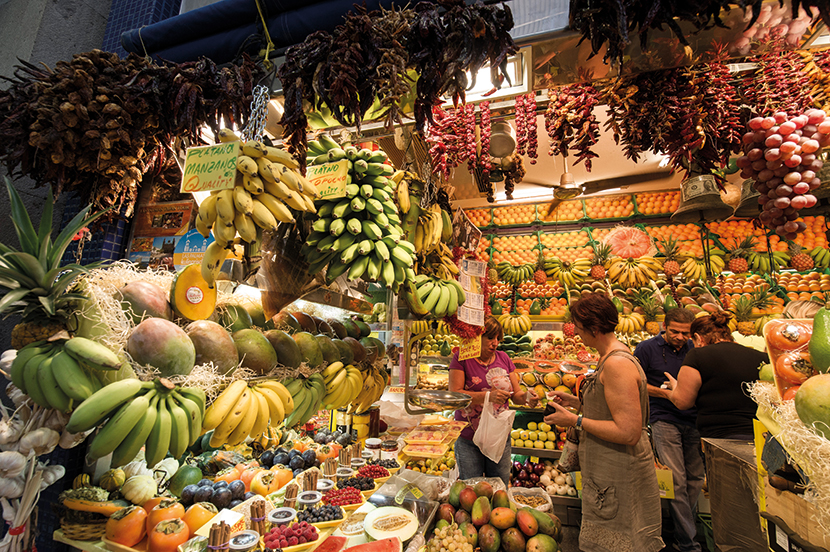 Venture into volcanic landscapes
Restaurante Vega
You'll look out across rust-red volcanic slopes, rolling greenery and spring-season almond blossom from the terrace of this much-loved cave-restaurant — a second-generation family establishment that's been going strong since 1981. The setting is spectacular, squirrelled away in the protected Barranco de Guayadeque, a verdant eastern ravine where hill-hugging caves have been reimagined as quaint restaurants, bars and homes. Work up an appetite with a hike along one of the canyon's varied trails, before digging into Gran Canaria specialities such as conejo frito (fried rabbit), gofio escaldado (roasted-grain flour prepared as a purée) and queso frito (fried cheese) with blueberry jam. Or try the Restaurante Vega signature, cochino a la sal (suckling pig cooked in the style of salted oven-roasted fish) — the recipe was created by current owner Airam Vega's father Manuel.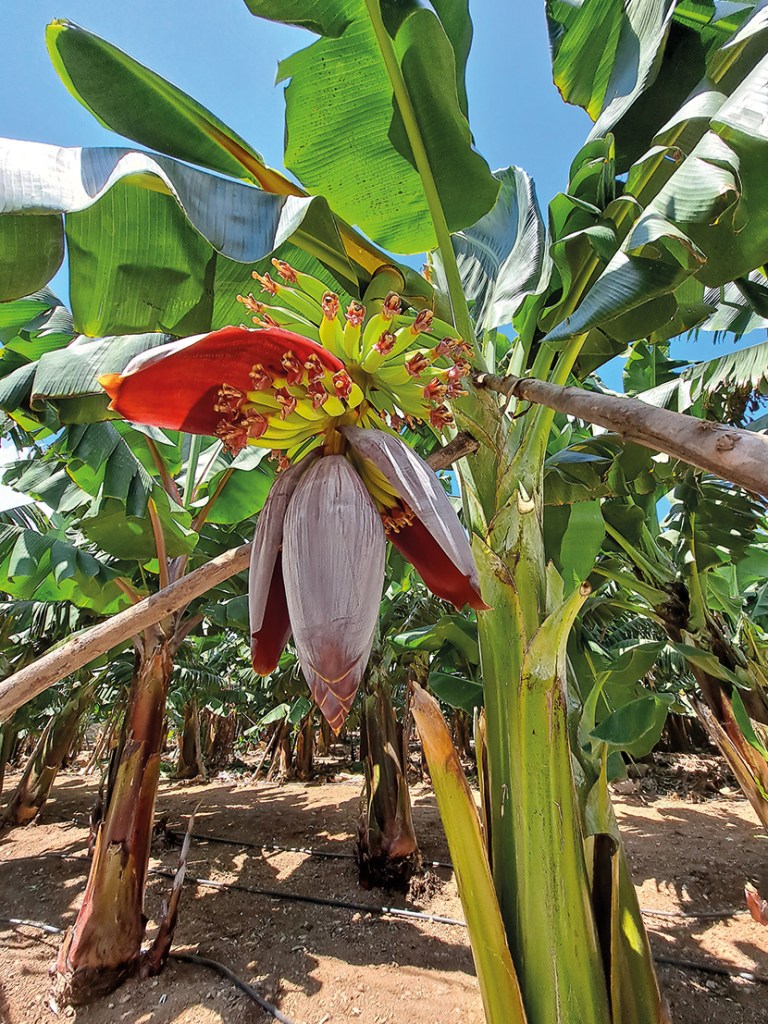 Enjoy a Michelin-starred meal
Poemas by Hermanos Padrón
Gran Canaria isn't all about traditional, age-old recipes. In recent years, a wave of local chefs have pushed the boundaries of Canarian gastronomy, blending creative flavours and cutting-edge techniques with the freshest island ingredients. Now Gran Canaria hosts four of the Canary Islands' nine Michelin-starred restaurants. Among them is Poemas, an elegant dining experience in the lively capital, Las Palmas de Gran Canaria. Led by respected chefs (and brothers) Juan Carlos and Jonathan Padrón, and with El Hierro-born chef Iciar Pérez at the helm, Poemas sits within the five-star Santa Catalina hotel, a reborn 1890s beauty. Seasonal, market-fresh menus spotlight Canarian produce with innovative twists, from wreckfish with fried kale to baked cuttlefish in citrus and black garlic. Nearly 300 labels grace the extensive wine list, including on-the-up favourites from across the archipelago.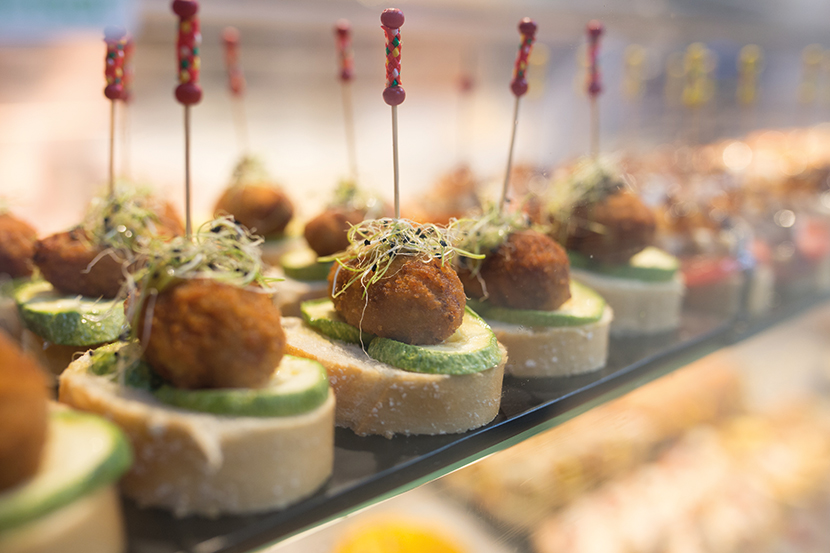 Other Michelin-starred restaurants
1. Los Guayres (Puerto de Mogán)
2. La Aquarela (Arguineguín)
3. Poemas (Las Palmas de Gran Canaria)
4. Tabaiba (Las Palmas de Gran Canaria)
5. Muxgo *Green Star (Las Palmas de Gran Canaria)
Other Michelin Guide restaurants
1. Casa Brito (Arucas)
2. Nákar (Las Palmas de Gran Canaria)
3. Pícaro (Las Palmas de Gran Canaria)
4. De Contrabando (Las Palmas de Gran Canaria)
5. El Equilibrista 33 (Las Palmas de Gran Canaria)
Try your hand at cheese-making
Quesería La Caldera
Gran Canaria is well known for its creamy Flor de Guía sheep's cheese, traditionally made with rennet and heavily influenced by the island's richly varied microclimates. If you're keen to uncover the secrets behind this local staple (and other dairy delicacies), head to prize-winning cheesemaker La Caldera, near Fagajesto in the north of the island. Here, Francisco Javier González Ramos and Tania Rivero Santana keep a long family tradition of cheese-making alive. Tastings celebrate a range of artisanal cheeses produced from the milk of their free-roaming sheep. Or, you can learn how to make your own cheese with a masterclass on the sun-soaked terrace overlooking the pine-dusted hills.
Unlock unlimited access, free for a month
then subscribe from as little as £1 a week after that